Therapeutic Body Massage
Massages are not new. Professional Therapeutic Body Massage is something that people have been enjoying for ages and over time and throughout the years, massage therapy has evolved to accommodate people and their different needs. Thus, instead of taking medicines or injections, people prefer incorporating professional massage therapy in their lives to get better and natural benefits. Be it chronic pains or just the everyday stress of work – professional massage therapy works wonderfully and helps you stay relaxed and manage your anxiety and panic in a better way. Professional massage therapy not only soothes body muscles but also enhances control over your fight and flight responses.
The perfect combination and balance of soft and hard strokes on the body ease and loosen up the tight muscles while also releasing body tension. The relaxation that one receives from professional massage therapy is simply mind-blowing. Constant body pain and stress symptoms manifest themselves as pain or tight muscles, and even knots – this is when professional therapeutic body massage comes in to provide pain relief and relaxation that we all need.
Professional Therapeutic Body Massage has become the best alternative to medicine. Trying professional massage therapy will let you know that it's the best way to reduce pain as it relaxes the body, enhance blood circulation, and heal sore muscles. If you are planning to visit massage places to get professional massage therapy and are not sure which one to visit? Here we have rounded up fives specialist who is known for their professional massage therapy.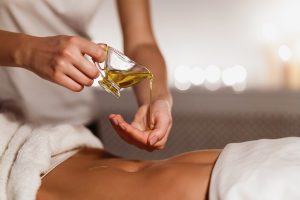 The Garden Spa
It is one of the finest and top-tier spas out there in California. Known for its professional therapeutic body massage – the garden spa and its team of experts have been providing their client's top-class services and high-end massages that are customized and tailored according to the needs of their clients. Experts and specialists know their way around the body and thus provide professional therapeutic body massage that massages their deep tissue and provides different unique kinds of massages that are pain-relieving and loosen up the stiff muscles which help with chronic pain and mental stress.
Zen Massage Therapy
Our mind and body need relaxation because it undergoes a lot of stress daily. The ability to refresh your soul, reenergize yourself, and release some stress can only be done by incorporating professional massage therapy. If you think professional massage therapy is easy and can be done by anyone then you are wrong. Not everyone has the power, technique, and hands-on knowledge to perform and execute the right kind of professional massage therapy. Here masseuses working at Zen massage therapy are experienced and class-apart massage therapists and they take immense pride in delivering their clients the best customized and tailored services. Zen massage therapy has the best ambiance and is here to provide a luxurious experience that would satisfy their clients.
One of the best things about Zen massage therapy is that they employ new modern techniques to provide instant pain and stress relief. The certified and licensed specialists know the importance of providing peaceful tranquil and professional therapeutic body massage effects and give better results when conducted properly. The professionals at Zen massage offer a wide range of services which includes deep tissue, Swedish massage, prenatal massage, and much more to help people get rid of muscle strain, stiffness, and soreness. They remarkably induce peace, relaxation, and calmness, and thus have become the ultimate go-to place for many people.
Silver Sea Day Spa
Many people are impressed by their services and amazing professional massage therapy. Those who are looking to spend a day pampering themselves and want to have professional massage therapy to release their everyday strain and stress should visit silver sea Day Spa to get amazing therapeutic services. They deliver a wide array of exceptional services that not only relaxes our soul but also rejuvenates our body and mind. The customized and tailored services have great treatment and techniques that provides utmost relaxation, alleviate pain, and restore alertness and concentration.
Celia's Healing Touch
Celia's Healing Touch offers professional massage therapy to the people of San Jose and its community. They provide various traditional and top-class massages that include Swedish, Shiatsu, deep tissue, and reflexology massage. Their specialized services have proven to be extremely beneficial for several people when it comes to pain relief. Working and providing services since 2002 – Celia's healing touch is not almost 20 years old and has been delivering top-notch services.
Slainte Therapeutic Massage
Lastly, on the list we have – Slainte Therapeutic Massage which promotes healthy well-being by providing top-class massages such as Swedish, myofascial, deep tissue, and professional massage therapy. New strategies and customized massage are game-changers for their clients