Couple Massage Therapy
Communication, respect, and spending time together are the three main pillars of a strong relationship. In such a competitive and social-media-advanced world, sustaining a strong and healthy relationship seems hard. Now that people have plenty of choices and absolutely no time to spend together with their significant other – many couples have given up on each other. Couples do not have time to out on dates or movies but one thing that they both should do is get a couple massage therapy. Imagine laying down with your significant other and a professional massage therapist kneads gently on your body. The soft deep pressured strokes will not only feel amazing but they will also help loosen up your stiff muscles and relaxes your mind. A couple massage is a fun relaxing activity that couples can have. From spending quality time in a tranquil environment to ebbing away your muscle pain – the relaxation that comes with a couple's massage is simply indescribable.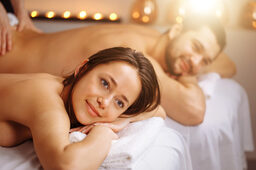 There are not many great relaxing activities for couples, therefore, a couple massage therapy can be great not only for alleviating your pain and tiredness but also provides a safe tranquil environment for a great bonding experience. The light silent ambiance, pastel theme, candles lit up, and your nose filling up with the soft delicate floral smell of lavender with deep strokes and the unavoidable feeling of complete relaxation – it truly is amazing. Witnessing and experiencing this with your couple will strengthen your relationship while also making you both healthy, happy, and glowy.
For those who are not aware of a couple massage therapy, it is a shared experience where the couples receive a relaxing strong massage from a therapist, at the same time. For those who are lately feeling some strain in their relationship or you just want to spend some quality time with your loved one – a couple massage is definitely for you. Having a massage together while talking or just quietly laying with each other is extremely intimate, romantic, and relaxing.
The daily grinds completely consume our energy and literally suck the best out of you. Thus, booking a couple's massage is a great thing for both you and your partner. The massage therapist will completely take away your tiredness, fatigue, and exhaustion.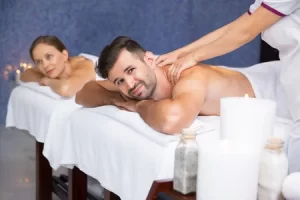 Bonding opportunities for couples
Apart from relaxation and alleviating pain and stress – a couple's massage provides the ultimate bonding experience for the couple and they can utilize this time to catch up with things in their lives. It is extremely great for couples who work tirelessly or has been so busy at work that even sitting and eating together seems like a difficult task. Moreover, it's applicable to couples who are so occupied with kids and had no chance to reconnect with each other – a session of couple's massage will take away your stress and pain while also providing you a non-disturbed and safe place to talk. The endorphins and other good hormones which are released during the massage increase love, liking, and affection between the couple. Especially, the production of oxytocin ( a hormone for pair-bonding ) is high during couple massage therapy which increased love and affection between the individuals. The rewarding connection and intimacy that comes with a couple's massage are what make this massage a love potion.
A Healing Experience
We all are broken, damaged, and dealing with so many emotional challenges at one time. Often everything seems like it's slipping away which induces a high level of stress while also leaving negative impacts on blood circulation and stiffness and soreness of muscle. A couple's massage is a great way to strive and live healthily with your significant other. A couple's massage is an extraordinary healing experience that not only strengthens the immune system but also assures people that as long as they are together, they can get through anything. The feeling of indulging with your body, mind, and soul with your significant other in total tranquility is amazing and exhilarating.
Reduce Stress and Anxiety
When the anxiety and stress reach their maximum level and there is no way to release them – it can start creating or bringing misunderstandings between couples. It might start with irritation and can lead up to big fights and thus can be a complete relationship killer. A couple's massage provides people a way to unwind themselves and de-stress which helps them to build more healthy and meaningful relationships. Keep in mind that you do not have to wait for a disagreement or a fight to happen just so you could enjoy a massage together. Scheduling it at the right time can help to build a strong bond and rekindle the relationship.
When is the right time to get a Couple Massage?
There is no right time to get a couple massage. You can get it whenever and wherever you want. The main purpose is to rejuvenate yourselves and your relationship. When things get tough and communication becomes harder, going out seems a challenge, and relaxing at home feels depressing – then it is time to get a couple massage. The tranquil time you will spend there together will become a fond memory and those moments will ensure that your relationship keeps going strong and healthy. A sweet escape that every couple needs.