Couples Massage Therapy
1. Take A Shower Before The Session
A quick shower can do wonders for you. While some people won't like washing their hair for an extra instance, there's really no need to do that.
The shower is meant to serve the hygiene code of the parlor. It gives the therapist a clear signal that you're clean. So they can start working on it.
A hot shower can also be seriously beneficial for a couples massage. A hot shower creates steam in a compact room. That steam can do wonders to clear your sinuses and relax your joints.
When you start with the massage, you and your partner will have the chance to enjoy the double benefits of the couples massage. The experience will be even more relaxing. Plus, when you return home and get to bed, you'll witness a refreshed version of yourself in the morning. So, the shower is only here to elate your massage experience.
Know that most salons and spas have a separate shower facility. So, if you forgot to shower before arriving at the spa, you can always use the shower available.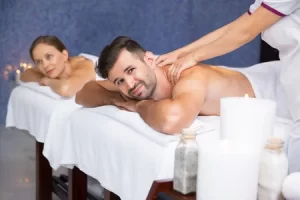 2. Tip 15%-20%
Massage experience can revitalize your energy levels. While a couples massage can be an exhilarating way of recharging the energy in your relationship, it might suit you to have it more frequently.
There's no better way to do it than having a friendly, warm, and welcoming therapist to delight you and your partner. To cultivate such an amazing relationship, be frank and communicate openly. It can benefit you even more to tip the therapist.
Most people who are pretty regular at having a couples massage usually tip between 15 to 20%. They also believe that it's customary to tip the therapist. We don't endorse that.
But remember that a tip to the therapist sends them the signal that you appreciate their work. It will motivate them even more. Next time you show up, the therapist will be more than happy to welcome you and delight you two with the same unique and ecstatic massage experience.
3. Resist The Urge To Help
While it can really tempt you to help your therapist during the massage, we suggest going otherwise. Abstain from doing it.
Just relax and let the therapist do their work. They're trained to relax your body in the best possible way. Your urge to help them would only make things more difficult for them. So, it's best to avoid it at all costs.
4. Avoid Wearing Solid Fragrances
The last thing you want in a couples massage is to distract your therapist with a strong scent. Avoid wearing strong fragrances.
If you or your partner do feel the urge to wear something, it would be best to wear a light scent. Convey the same message to your partner.
Firstly, the fragrance could be overwhelming for anyone. So, it can again disrupt the flow of the massage. Your mind could be diverted to the strong odor. Secondly, it could be seriously problematic if the therapist is allergic or sensitive to fragrances. So, it's best to avoid it.
5. Reschedule If You're Sick
Nothing could be worse than having a couples of massage with a person who is coughing and sneezing. If any of you or your partner are sick, it's best not to show up. Inform your therapist of high priority.
Ask them if they can reschedule it. Get well and then approach the therapist.
Make sure to follow the above-provided couples massage etiquettes. If there's anything we didn't cover, don't hesitate to reach out to us.