Couples Massage Therapy
A couples massage can be as revitalizing as waking up in the middle of fairy meadows. While most couple tends to avoid it, there's no apparent reason to ditch it despite knowing that it has numerous benefits to strengthen your bond with your partner.
Today, we'll look at what people should and should not do when going for a couples massage.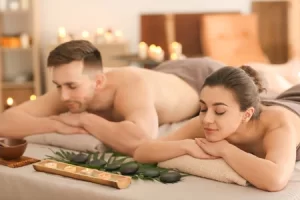 1. You Can't Afford To Run Late
While a couples massage can be reinvigorating experience for your relationship, one thing that can ruin it completely is running late. Always be on time. You don't want to see your therapist get pissed off and wrap up your session with nothing but frustration and disinterest.
We would always advise you to show up on time. If you're running late, it's always best to inform your therapist of your situation. They might be able to set you up for a late appointment or reschedule it for another day.
Also, it's best to have a pre-therapy consultation. This can help the therapist better understand your needs. They'll have enough time to make arrangements accordingly.
2. Disconnect From Your Mobile Phones
Phone addiction is a severe problem. While checking in on your FB or Insta might be cool, it will not charm the therapist. What's more important is that you're actually ruining your couples massage experience.
It's best to disengage from mobile phones and connect your body with your mind. The last thing anybody in the massage room wants to hear is a phone going off. So, it's best to switch it off. We suggest you set it on airplane mode or Do Not Disturb. If possible, you can leave it in the car.
If either one's phone goes off during the session, you two will blame each other later. So, it's best to disengage the phone.
Besides, massage does magic when it's performed in a flow state. Any texts, noise, or alarm sound can distract the therapist, disrupting the flow. You don't want to ruin the flow of your message.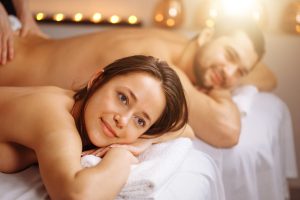 3. Undress Together
The masseuse will ask you to disrobe. They'll hand you a towel or robe to cover yourself. You can choose to undress with your partner or in the bathroom. Make sure to communicate clearly, as this can set people off instantly.
If you've come to the spa with a friend, then undressing in front of them can be seriously uncomfortable. It might suit you more if you're out there with a partner.
Whatever and however you want it, make sure to communicate with your partner beforehand.
4. Ask Questions Before The Session
Keep in mind that asking questions always takes place before the massage session. Whatever is bothering you, you may ask right away. Don't hesitate to ask before the session whether it's anything about the massage, pressure, process, or anything.
Because if you ask later, it would only distract the therapist and disturb their flow. Therefore, we strongly advise you to discuss matters in advance. Voice your concerns beforehand so that you're not surprised by anything new in the process that the masseuse may reveal at the time of massage.
5. Avoid Talking Too Much
As a client, you want to ensure you don't talk much during a couples massage session. It is one of the essential couples massage etiquettes.
While it can be really tempting to approach your partner and chat with them, it will only distract you from building that deep mind-body connection.
Remember, you're at the massage parlor to relax and unwind after a long week's hustle. We don't discourage chatting with your partner. It can be absolutely fine to exchange a few words and gestures, but it's always best to avoid getting yourself into a full-blown conversation.
Keep in mind that this time is special. Cultivate that deep mind-body connection and soothe your muscles and joints.
You can reinvigorate your relationship with this massage.
Let go of your body and get into the flow of the massage because massage can be a magical experience, especially when it's in a flow state.
Remember that you'll have all the time to discuss the massage later. So, avoid talking too much.